It is possible to enlage some of the photos by clicking on them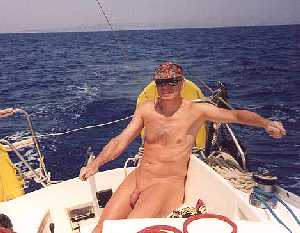 We have just discovered the delights of sailing. We have both done a little bit of dinghy and windsurfer sailing before, but never thought that we had the experience to sail a yacht on our own. Although we were novices, there were three things we did know about sailing: that it was good fun, that once you are off on your own, there is no need to wear clothes, and, that you can get sunburnt very easily on a boat. We were introduced to a sailing company who do flotilla holidays around the Greek Islands for beginners. We had to attend a training weekend to learn how to handle a yacht and do the basics like rescue a man over-board, pump out the toilets, tie knots, etc. We had very little wind so we did precious little sailing.
Then came the big moment in Greece, we motored our 26 foot yacht into the middle of the bay off Poros, raised the sails as instructed back in Portsmouth, pulled the relevant bits of string, pointed the boat in roughly the correct direction and 'We Were Sailing!'. Clothes were already off by that stage, and did not go back on until we were virtually at our destination port. It was magic. You never get bored as there is always something to do, and great fun.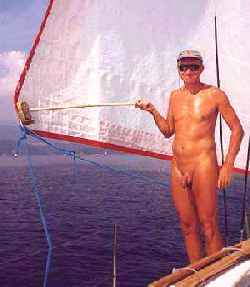 Having been bitten by the sail 'bug', we have subsequently done quite a bit more (nude) sailing both in England, on the Norfolk Broads, and in both the Northern and Southern parts of the Ionian Sea , which is off the west coast of Greece. In 1998 we thought that we were quite adventurous hiring a 32ft yacht (First 305) in the Southern Ionian Sea, which we shared with two other good friends. The weather was rather mixed, ranging from storm force winds to flat calm. We all learnt a lot, including how to make the boat go when there is virtually now wind! (see photo). In 1999 the two of us joined a flotilla in the Northern Ionian, sailing between Corfu, Paxos, Anti Paxos and the Greek Mainland.
Although the weather was better in 1999, it did have its wild moments, which caused us to bend the rudder slightly! Both parts of the Ionian are absolutely wonderful. The Southern part has more islands, but the Northern part has longer crossings between the islands, which requires more navigation skills.
Our sailing holidays are described in more detail in a separate page purely devoted to Mediterranean sailing. It describes the areas where we have sailed, and also outlines the extent to which you can remain naked even on a 'textile' holiday - not to mention the reaction to others of a nude sailor in their midst!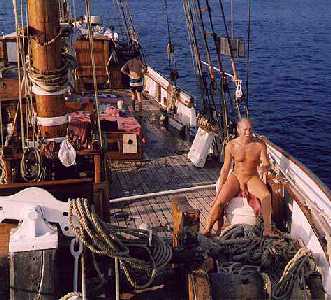 The Irene is a wooden sailing ketch, built in 1907, weighs 100 tons and has been restored to virtually its original state. On deck, it is all canvas sails and ropes, very similar to the way she was originally built. Below deck, the hold has been replaced by polished timber and relative luxury.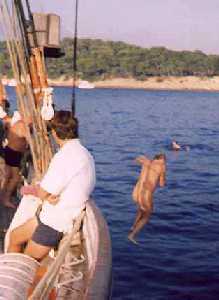 We have been for cruises on her for three weekends. Twice in the Solent and around the Isle of Wight, and just recently, in the South of France. One of the great things about the boat and crew, is that the passengers are encouraged to do as much, or as little, towards sailing her. You can either just sit on deck and take in the experience, or go out on the jib or up the main mast. Most passengers are happy just pulling ropes to raise and lower the sails, and to help tack, etc.
Food is good and plentiful, with cosy accommodation being provided in a series of small cabins. Last heard of, Irene was in the Caribbean, but is expected back in European waters soon. These cruises are not naturist, but as you probably guessed, I managed to find a quiet corner in the sun!
There are some more photos of the Irene in the Photo Album.
As mentioned above, we are lucky enough to own a house in a fairly secluded area with secluded front and back gardens. Being keen on gardening it is therefore not too difficult to get an 'all over tan' by just pottering around the garden. One of my pride and joys is my 'wild flower meadow'. You have to give it a trim every now and again, and be careful what you do with the garden shears. There are more photos of the garden in the Photo Album.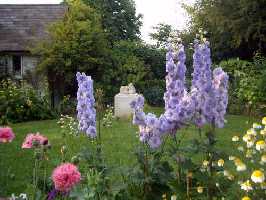 It is very welcome to see that an increasing number of privately owned gardens that are being opened up for 'clothes option / nude friendly' days. The first was at Abbey House. The open days at Abbey House were truely clothes optional with nudists / naturists being made very welcome along side the paying 'textile' public (who were warned that there would be naked people about.
In Spring 2007, Ken Mines and his wife Heather opened up their garden in Sussex as part of the National Garden Scheme. They we not quite as brave as Abbey House, but never-the-less had an open 'preview' day for their naturist friends. It is a magnificant garden and Ken and Heather made us all very welcome.
| | |
| --- | --- |
| | Ken, hard at work! |
| | | |
| --- | --- | --- |
| | | Some of the visitors |
They have clearly transformed the garden. When they arrived in Hadlow Down in 1993 the 'upper'garden had recently been a field and was completely grassed over. The present raised bed was a weedy heap, mostly clay from the footings of the house extensions. The original 'lower' garden had a lawn and flower beds choked with weeds, dead trees and shrubs.
Over the next seven years they cleared the site and added tons of mushroom and garden compost to lighten and improve the soil. They started an organic vegetable patch and new planting areas.
In 1996 they asked a garden designer, Dr Lucy Cotes, to help us pull together the design; what you see now is a combination of our pooled ideas. A new terrace and pond were built, and in May 2004 we started a collection of David Newman sculptures. These augment carvings from a demolished Victorian church and various 'found objects'.
The garden is managed and cultivated entirely by the Ken and his helpers. Some plants are allowed to grow where they have self-seeded and this, combined with a certain indecision and an inability to resist a new plant, means that the garden changes from year to year. Some, but by no means all of these, are planned.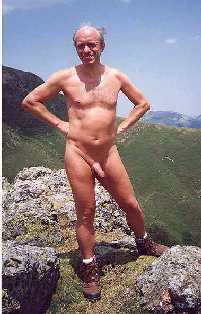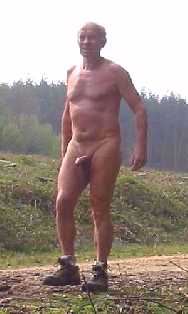 There is nothing quite like walking nude in the hills and mountains even in cloudy weather. When the sun shines, its a superb way to get an all over tan. Other than your loved one, not a soul around for miles. With the wind whistling around your not very private parts, there is no one to bother whether your penis is up, down, hard or soft. I find the whole experience is very exhilarating.
Even when walking in the most remote areas of France, you will pass buildings, and possibly bump into someone else. It is therefore necessary to have a quick 'cover up' at hand. Shorts are one solution but can they can be awkward getting them on quickly if you are wearing walking boots. I've tried various 'quick cover up' methods and my preferred method is a pair of running shorts, modified with the use of Velcro to produce an ideal cover-up. They are home made, as described on my Nude Lifestyle webpage.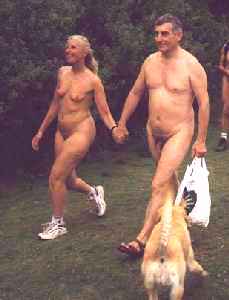 In 1993 the Single's Outdoor Club (SOC) established a series of mid week naturist walks in South of England during the summer months. In 2016 the walkers split from the main SOC club and set up an independent group called Naturist Ramblers (Nat Ram). They are a very friendly bunch and are just as mad about being naked as me. You don't actually have to be single to join. My first experience with them was on a wet cold day in early June. I thought that no one else would be mad enough to turn out in such conditions, but to my surprise, eleven other nudists were also mad enough to brave the elements. Although at times, we were cold and wet, the experience of walking nude in unfamiliar surroundings, with people I had only just met, was delightful. To cut a long story short, I am the Chairman of Naturist Ramblers. Have a look at their webpage to see some of the magnificant walks that we do.
When walking nude, you will often be visible from buildings or from other people in the far distance. The question is when should I 'cover up'?
With people it is fairly easy. If you cannot make out whether they are wearing clothes or not, then they cannot make out if you are naked or not. The moment that you can see what they are wearing then it is time to 'cover up', even though they will almost certainly have not even noticed you. The same rough rule applies with buildings. If anybody looking out of a window could notice that you are nude, then it is time to 'cover up'.
In my view it is all very unnecessary, but convention unfortunately demands it. Every male has a penis, but if it is left pink (or brown) and dangling, then it is likely to cause a breach of the peace, so it must be covered.
Ever considered nude modelling? Let me describe my experiences!
---
Navigate Yourself Around my Web Pages