My other interests are playing squash, skiing, walking, sailing, gardening, opera (watching and singing) and playing with computers. It is possible to combine my love for nudity with walking, sailing and gardening without too many problems, as you will see as you explore my main homepage. As for squash and skiing, there are nude possibilities. However, I am struggling with nude links to opera! I occasionally run in the nude, but when you stop, perspiration drips off of everything!
t is possible to play squash nude, but I have never tried it. I would have thought that the lack of anything to absorb the perspiration would be a problem.
There comes a time when even the most ardent nudist has to wear clothes. My thoughts and ideas on how to get away with wearing the absolute minimum are discussed in my 'Skimpy Webpage'
I have an amusing story about how an examination of my ear left me sat naked in front of two women doctors!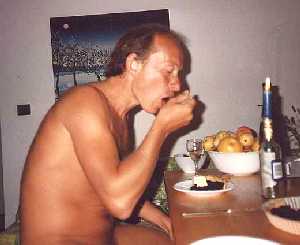 Although it may sound a little strange, but our style of skiing holiday does give lots of opportunities for being nude in quite social surroundings. However, saying that, I have never managed to actually ski nude. Typically we hire an apartment in the French Alps for a week or so (more often than not at Belle Plagne, which is one of the prettier parts of La Plagne). The dates are arranged so that we also meet up with lots of friends, who also attempt to also hire apartments in nearby blocks. The arrangement is fairly informal, we have being doing the same sort of thing for quite a few years. We have developed a core of skiing friends who are used to my nude lifestyle. More often than not we share an apartment and consequently we are quite used to seeing each other in various states of undress, and in my case with no clothes on at all for much of the time. Being self catering apartments, it is quite easy and convenient to cook in, and we normally take it in turns to cook, so that any one couple probably only has to cook once or twice a week. These soirees have always been clothes optional as far as I'm concerned, although nobody else has ever joined me for a gourmet meal 'au natural'.
In the winter 2002 / 2003, the number of people in our group was a staggering 9 people plus one dog (it was almost 13, but 4 dropped out at the last moment!). One minor problem was that I had never met 4 of the 9, so had no idea how they would take to my nudity. The first evening meal was in one of the other apartments.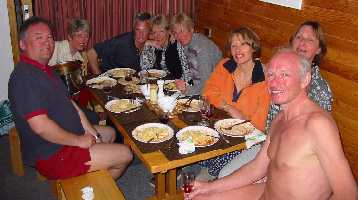 The apartments are not very large, and the idea of just walking in to the apartment (which contained 4 strangers) and just taking all my clothes off and standing there naked in front of them, did tax my brain, but the problem had to be overcome!
Before the meal, I phoned the hostess, (who knew that I was a nudist) and asked if it would be a 'clothes optional meal'. She replied quite positively, so that was just the opening that I was looking for. We were the last to arrive at the apartment. The drink was flowing, so in no time at all I stated that I was 'just going to make myself comfortable'. I disappeared into one of the bedrooms, took off my clothes and re-appeared in the glory of my birthday suit. There was little comment, life just continued as before. The aperitifs were finished and we sat down to a delightful meal. The seating plan had been arranged so that everybody was mixed up. I finished up sitting naked between two women who were complete strangers. They could not have been too upset by the experience as no one left any food!
The following day I was sitting on a chair lift next to one of the 'strangers', the subject of my nudity came up. She was totally un-phased by it, and thought it silly that people wore clothes in saunas. The complimented me on my muscular thighs and bum, but made no reference to the bits in between (but then she is married). A day or so later, I also managed to have a chat with the other 'stranger'. She admitted to liking topless beaches, and was quite happy to just wear a croched bikini bottom, but felt that leaving the bottom on maintained an air of mystery, so it never came off. Obviously she was not at all bothered by my nudity.
One of the games that we amused ourselves with was the 'touchy feely' game, where you were blindfolded and had to guess who it was by only feeling the face and bum. It was good fun, especially after a few glasses of wine. We all joined in, but when it was my turn to be 'felt', it was considered that I had to put on some trousers, otherwise it would be too easy for the contestant to guess who was being felt.
So the week progressed, living nude when in our apartment and also living nude at mealtimes when eating in or out. The weather was absolutely great and even in mid-March it was possible to sit outside on the balcony in the late afternoon sun and get the first semblance of an all over tan.
At the end of the week the 9 of us had a prize giving ceremony. For much of the week I had acted as the group guide as I knew most of the pistes and mountain bars and restaurants. I was awarded my prize and then made my acceptance speech. I thanked them all for letting me show them the sights of La Plagne, at which point the whole group collapsed into hysterics! Obviously I was referring to the mountain scenery, but they some how misinterpreted it!
Ramsau Naturally! - Naturist Skiing Hotel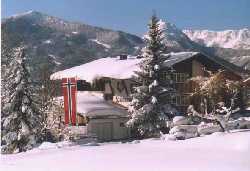 If the idea of combining skiing and naturism has ever crossed your mind, then this might be worth considering. Chalfont Holidays have located a hotel in a ski resort in Austria where is is possible to be naturist for much of the time. I have to say that I have not tried it, but the idea sounds facinating. It was the brain child of Bill Haynes, who used to run Chalfont Holidays.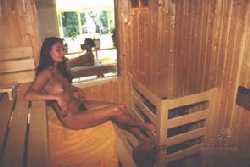 In addition to organising naturist holidays to the Canary Islands and the South of France, this naturist skiing hotel is also now available. The hotel is naturist throughout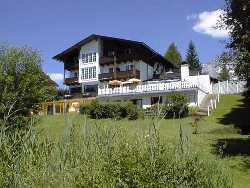 the year - summer and winter, but its location makes it an ideal centre for both cross-country and downhill skiing. It is described as 'a luxury naturist hotel on the Ramsau Plateau under the Dachstein mountains in Styria in Austria'. The brochure also goes on to say 'The hotel has a sauna suite and swimming pool. In the winter, it is the custom, but not obligatory, for guests to go straight from the sauna outside, to douse themselves in the snow!'. Have a look at Chalfont Holidays web site for more details.
Photos and Stories about being Nude with Clothed people or being Nude in Unusual places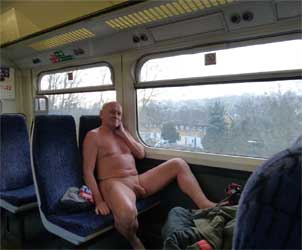 The above photos and stories show me nude but mixing with clothed people. Do you have any similar photos that you might like to share? Also how about nude photos taken in places where nudity might not be expected. I've got a few photos, but I'm quite happy to add your photos, plus a brief story.
What do Nudists do in the Winter?
It is a question that people often ask. Well the above two items give some idea of how you can be nude in the winter. However, here in UK, winters tend not to be freezing, just grey and wet, so it is just a case of turning up the central heating. But occasionally it does snow, in which case it is difficult to resist the temptation to get out in it and feel the snow between your toes and other bits!
| | |
| --- | --- |
| | Yes, it really is as cold as it looks! |
| | But it soon feels warmer |
Early Spring, and in the greenhouse things start growing..

In the greenhouse.

Bristol Gardens Health Spa is located in Brighton not far from the Marina. The recommendation to visit the spa came from David Martin's Naturist Guide to Britain, in which he gives a glowing report of the place. It is a delightful place, and well worth a visit if you are in that part of the world.
My initial impression was that it was like the Tardis in Dr Who. A smallish exterior and entrance leads into a building that appears bigger on the inside than it looks from the outside. The first thing that impressed me was that clothes and swimming costumes were not allowed. Other than in the gym, clothes are not required!
At the reception you are given a towel, (which you can change as often as you like) and allocated a locker for your clothes. Once you have paid to get in, you do not need any money. You leave your key at reception, and then you and your towel are ready to explore in naked freedom.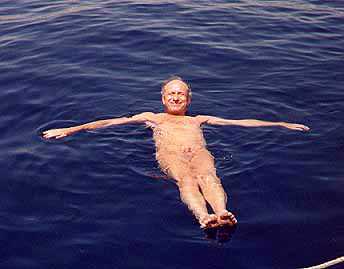 The reception is located on the ground floor, along with the gym and a TV room. In the basement is the 'wet room' which houses the main attraction of the place. There are countless showers, a small swimming pool, a Jacuzzi, four hot baths, two steam rooms, and two saunas. Everything is well maintained and spotlessly clean.. On the first floor there is a solarium, massage room and some rest rooms. On the second floor there is a small roof garden.
It opens at midday, and once in, you can stay naked all day long in varying degrees of heat and relaxation. At weekends, during the evenings, it is reserved for couples only. If the weather to too cold to be nude outdoors, then other than being at home, then Bristol Gardens must be the one of the best place to be nude indoors.
Another indoor naturist centre is Silverleigh. I have only recently discovered it even though it is only a mile or so from Eureka. Again its appearance from the outside is deceiving. Athough it looks just like a large residential house, it has been extended and now contains a swimming pool, two jacuzzis, sauna, steam room, massage facilities, TV, etc. It is very pleasent and well worth a visit if you are in North West Kent with a few hours to spare.
Woman's Perspective on Nudity in Public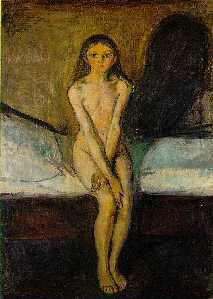 There are many more male nudists than female nudists. I am not about to attempt to explain the reasons for this as trying to understand a woman's brain is far beyond the ability on most men. However the Naturistplace website is an excellent site that attempts the explain the reasons, highlighting many Woman's Issues.
In late 2015 the BBC programme 'Woman's Hour' did an great programme discussing 'A Woman's Perspective to Nudity called 'Naked for the New Year'. Appropriately, it was broadcast on 31st December 2015 - its lasts 56 mins and is well worth listening to.
More views from women on my webpage are given here.
You might think that nudism and naturism is the same the world over, but people from different backgrounds react differently to the sight of naked flesh, let alone the sight of a completely nude body. This page gives an interesting definition of the word 'nudity', how peoples reaction has changed over time to the sight of a nude body, and the reaction varies depending on your location world-wide.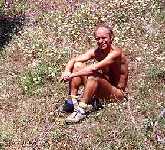 People always worry about what others might think if they knew that you were a nudist. Parents and work colleagues head the list of people who you would least like to find out about your nudity. I can understand peoples concern, but I have the opinion that what ever you are, and what ever you think, then chances are that you will not very different to your parents, as obviously that is where you originated from.
My mother and father always saw our holiday photos, so they were aware that we sunbathed nude. Neither of them were too shocked by the photos, the only question I remember being asked was 'did you know that it was a nudist resort before you arrived?'. To which our answer was yes!
My father died fairly recently, so we have been doing quite a bit of 'mother sitting'. We invited her over to our house for quite a few weekends during the summer. This presented a dilemma, as our house is quite secluded, and I rarely wear clothes at any time of year, least of all on hot summer weekends. There was no way that I would be able to sit around with clothes on without getting 'ratty'. So, before the first visit, I mentioned, that if the weather was fine then chances are that I would not be wearing any clothes. GULP! Her reaction was that it did not cause her any problems, as long as she was not expected to join in! The day she arrived, and the weather was stinking hot,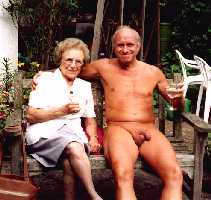 and with a little trepidation, off came my clothes. She did not seem to mind, and we all had a series of pleasant weekends together, with her sitting under the sun shade, and my wife and I (nude) making her numerous cups of tea etc.
The summer has now just about passed, but I try and see her at least once a week. Her house is always nice and warm, so during my first visit, I asked the question 'do you mind if I make myself comfortable and slip my clothes off?'. To which the reply came 'no you do what ever you want'. So off came my clothes again. Our regular weekly visits now consist of me 'nude' sorting out her finances, drinking tea and beer, etc. Its very pleasant, I thoroughly enjoy it, and I get the impression that she could not care less.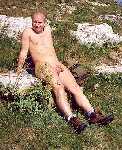 From time to time I go running, basically to keep me fit for playing squash. My set route takes me out in to the country, mainly along footpaths. One section of the route is along a straight section of path which runs through some fields at the bottom of a valley. As such, it is easy to see if anybody else is around. I tend to run during the early evening and the path is always deserted. You guessed! So I do that section of the run naked, just clutching my shorts and shirt in case I need to cover up in a hurry.
So there I was, jogging along 'au natural', with the coast clear as far as I could see. Then from across the field a voice shouted "excuse me". I looked up, only to see that a chap was coming across the field towards me. So I started to put my shorts on. Don't bother about you shorts, nudity does not bother me, he said. I explained that I did not think that anybody was around, and hoped that my nakedness was not offending him.
His first comment was, "what's it like?". I attempted to explain, using words like 'wonderful', 'freedom', etc, but concluded that to only way to appreciate it, was to try it. I was getting my breath back by this stage, although sweat was dripping off various parts of my anatomy. Do you ever sunbathe nude, I asked. He replied that he had often thought about it, but had never actually done it.
He then noticed that I shave all over, and said "what's it like" he said. Again I attempted to explain, using words like 'wonderful', freedom', 'smooth', etc, but again concluded that if he thought that it looked good, then the only real way to find out, was to get the razor out and start shaving.
It really was a most unusual conversation, standing there stark naked, in the sunshine, talking to a complete stranger. Anyway, the conversation concluded that if he wanted to find out more about nudism / naturism, then the easiest thing to do was to but a copy of H&E from the local newsagent, and find out more about local clubs etc. Although many people 'knock' H&E, is the only source of information that is easily available giving an introduction to naturism.
Nude running is great but you can only do it when you are sure that nobody else is around. While I have my favourite paths where nude running is possible, on most of the paths there is always greater chance that you might see somebody, so running nude is not really wise. You can run in just your shorts and either carry your shirt or leave it at home of carry it. However, I get the greatest 'freedom' from running with my dangly bits just dangling, so wearing shorts does not provide that freedom, even if they have had their linings removed. So I tried experimenting just wearing a long 'tee' shirt. I started of wearing the shirt and shorts. The shirt is sufficiently long that not much of the shorts can be seen, however they do give the confidence that nothing is going to be exposed should a gust of wind catch the shirt 'just wrong'. Once on to the quieter paths, I removed my shorts and just ran in the shirt. It worked well and my penis was covered, even if the rear view was a bit 'cheeky'. However, as I got sweaty the shirt stuck to me and started to ride up slightly, and I could not guarentee that my penis could not be seen.
| | | |
| --- | --- | --- |
| | | Tee shirt running gear |
I then had the idea to use a kynodesme to hold my penis 'up' and stop it from being exposed. As you may be aware from other parts of my website, a kynodesme is a 'string' that is tied arond the foreskin at the tip of the penis to stop it from flopping about. It really worked well and I'm now able to run all the local busier paths in just my shirt and kynodesme.
| | | |
| --- | --- | --- |
| | | This is what is underneath |
Obviously once on the really quiet paths, it all comes off!
| | | |
| --- | --- | --- |
| | | Almost as good as being nude |
When I originally wrote my webpage in 1997, there were no organised, or un-organised nude running events in the UK. However, Tything Barn now organises an annaul nude run.
I play a lot of squash, (twice a week on average). This involves using a communal changing room with communal showers. Being nude at some stage is inevitable, so I see my opponent in the nude, and he sees me nude. I do not go out of my way to be noticed, but I would have thought that my 'all over' tan is very obvious, similarly, my lack of hair. In all the years I have played squash, with the many hundreds of people I have played, I have only had a couple of comments about my all 'over tan', and never any reference to my lack of hair. May be being a nudist, I am more aware of my, and other peoples bodies, and therefore might expect others to notice. May be they do, and chose not to comment, - Who Knows?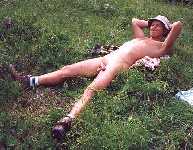 The only occasion that my lack of pubic hair was noticed was by a doctor during a thorough medical examination which was required for an insurance policy. The doctor was an elderly Scottish gentleman. After all the usual questions, I was asked to strip off, but was told that I could keep my underpants on. I was prodded and poked in all the usual places. The doctor then explored inside my underpants the check that I was 'all there'. He then enquired about my lack of hair, thinking that I may have been a medical condition. I'm not quite sure what he thought when I told he that they were shaved off. His reaction was one of surprise as I got the impression that he had never seen shaved pubes before.
I find the question of when nudity is, and is not acceptable, confusing. As I mentioned above, I have seen most of the male membership of the squash club, in the nude. In the changing room, no one is bashful about it. Behaviour and conversations continue exactly the same as if we were clothed. Very few people wrap a towel around them, and nudity is just accepted as normal. This normality does not only apply to people who know each other, but is also the same when we play squash matches against teams that we do not know. Complete strangers seem to be quite happy to be nude together without any embarrassment or problems.
Yet out of that context, very few of them would even think of swimming without a costume, or sunbathing nude. The only possible difference between a changing room and a beach, is that on a beach, the company is likely to be mixed.
The situation is slightly different at French squash clubs. From the few clubs that I have visited in France, the same fact that strangers of the same sex are quite happy to be nude together in changing rooms. The difference being that it is quite common for there to be a common sauna for both men and women. So nude men and women share the same sauna, without any embarrassment or problems. But then France appears to be much more relaxed nudity in general, with all its nude beaches, resorts and campsites.
Doctors and the Medical Profession
Even thought I like to think that I'm reasonably fit and healty, every now and then it is necessary to go to see a doctor about something or another. Whether is is anything from an upset stomach to a spot on the bum, they will generally say 'slip your trousers off and lets have a look'. Although I generally do not wear underwear, I have no wish to 'surprise' the doctor, so if I think that it is likely that I might have to take my trousers off, then I make a point of wearing underpants. Inevitably the all over tan takes them by surprise, as even with underpants on, it is totally obvious that there are no 'white bits'. There was one doctor who was facinated by the idea that I sun bathed with no clothes on!
Another doctor was concerned that my lack of public hair might have been due to some medical condition, until I pointed out that I intentionally shaved it all off!
Recently I had an anoying painful spot on the tip of my ear which would not go away. I thougth that it was an in-grown hair, but it would not go away so I went to see my doctor. She thought that it was nothing to worry about but that it would be advisable to go and see a dermatologist, just in case. So I made an appointment with the specialist. I duly turned up and went in to see the woman doctor, who was being aided by a young female assistant. The doctor had a good look a my ear and then said 'I think that we need to do a full body inspection' and asked me to to go into a small room nearby and strip off down to my underwear.
I suspect that you can imagine the rest! For a start, having gone for an examination of my ear, I was not wearing any underwear, so what should I do. I went into the small room which contained an examination bed. My thoughts were - Oh Shit! Should I just take off my top and sit there in my trousers? That really was not on, and clearly the only course of action was to do as partially instructed and to 'strip off'.
Appearing naked in front of strangers does not cause me a problem as I do it all the time in my life drawing classes, but I suspect that the two women who were going to shortly enter the room would not expect to see a naked man! As there really was no option, I stripped off and sat on the edge of the bed. Even for me, it did feel rather stange to be sat there, stark naked, not knowing what their reaction would be. I sat there for ages. There was a full length mirror in the room so I could see the whole image of me sat there waiting for the two women to enter the room.
Eventually the door opened and they entered the room. Their immediate reaction was to get a surgical gown and offer it to me so that I could cover up! I said that I was a nudist and as the whole of my body gets exposed to the sun, I thought it wise to strip off completely to enable the examination! Even though they were looking for evidence of damage to my skin from the balls of my feet to the tip of my head, the surgical gown remained over my bum and genitals, neither area of which got examined!
The examination ended and I got dressed while they left the room. It turned out that the problem with my ear was not serious.
After it was all over, I had to smile about it. In retrospect, I do not think that I would have done anything different.
I do suffer from slight sun damage on the top of my head, as a result of not having much hair and being out in the sun alot. It is not serious and is called Actinic Keratoses. For the past few years I've seen the same dermatologist, who easily treats the problem with a dab of dry ice. But he always says the same as the previous doctor and that an examination of the rest of your body is required to check for any other skin damage. At that point he sends me into a neighbouring room to strip off down to my underwear, ready for examination. I alway strip off completely so that I'm completely naked when he enters the room. I explain that I'm a naturist and that as the whole of my body gets exposed to the sun, then presumably he would like to examine my whole body. There is never any problem and the examination goes off with a problem.
In 2013 the procedure was was slightly different. I was examined by a female doctor, who was accompanied by a female nurse. So we went through the usual procedure. She looked at the scabs - no problem I can treat them with dry ice, but I need to have a look at the rest of your body for any sun damage. I told her that I was a naturist and that the whole of my body gets exposed to the sun. No problem, she said, just strip off and I'll examine your whole body. They did not send me into a neighbouring room, so I stripped off in front of the doctor and nurse. Being a naturist, exhibitionist etc this did not cause me any embarrassment. So I was standing there - totally naked. the nurse pulled a curtain around the examination table and suggested that I went behind the curtain, in case anybody entered the room. They were both grinning from ear to ear! At this point I started to get an erection. The doctor asked me to get up on the examination table and very neatly placed a large sheet of tissue paper over my enlarged penis, before continuing the examination. The examination did not show any problems!
Even more recently I went to my doctor about a mole on my side. He suggested going to see a dermatologist. So I made an appointment and duely turned up for the consultation. I showed him the mole, which he was not too bothered about. I presume that you would like it removed, to which I confirmed. He said that he had better just check the rest of my body for damage, so him and his nurse asked me to go behind the screens and strip off to my underware. You might think that that is is the same story again, but it does have a twist. I was not wearing any underware, so I just stripped off. The nurse poped her head around the screens and made the usual statement that I had better cover-up and offered me a gown. I made the usual statement about being a nudist and totally comfortable with my nude body and that I don't get embarrassed about such matters. The examination ended with me standing without gown while he examined my back. I then got dressed.
It was a private hospital and the consultant quoted me a price for removing the mole. He did say that for that price he would be prepared to remove up to 3 similar lumps and bumps, so I found another 2 spots, so I that I would get my moneys worth. Would you like me to do it now, he said, which took me a little by surprise. You might as well, I said as that was really why I was here. I was lead into the treatment room. The same nurse offered me a gown and asked me to go behind the screens and strip off. This is all very silly I said, bearing in mind our earlier conversation. She replied, I know it is a bit daft, but this is what we have to do. So I stripped off and emerged with just the gown being held over my dangly bits. I then sat on the treatment table, with just the gown over my genitals and had the offending bits removed.
Has anybody else had a similar experience, or other experiences with the medical profession and their reaction to your nude lifestyle. If so, let me know and I'll add it to my webpage on the subject, which features your stories.
As you might have noticed from my photos, I shave most of my body. Some people like the idea, and others do not. To me, it is just a matter of personal preference, I like the feel of being smooth, and I like the look of being smooth. If you also like the look, then great. If you don't like the look then that is you opinion, which I respect.
| | |
| --- | --- |
| | No its not me, but never the less a very artistic photo |
I try and shave my pubic region and chest once a day, at the same time as shaving my face, using an electric razor. When I have a bath or a shower I then use a 'Gillette' type razor for a really smooth shave.
One of the best sources of information on shaving is given in the World of the Nudest Nudest webpage.
When I finally plucked up courage and shaved off all my pubic hair I thought that the feeling of being smooth was wonderful. My body hair is fairly fine and fair in colour, so when you look at photos of me with hair the difference is not that noticable, but it is amazing what effect the removal of a small amount of hair can have on the feeling of the penis and the pubic area.
| | |
| --- | --- |
| | Believe it or not, this is one of my first nude photos when I actually had pubic hair! |
I suspect that having fine hair makes shaving easier as it is less noticable when it starts to grow back, and I suspect less itchy.
If you have dark coloured hair the effect on appearance is much more drammatic when your pubic hair is removed.
This is Silvia from Germany who is in Visitors Gallery 2 showing what a difference shaving can have if you have dark hair
If in doubt, I would recommend giving it a go. If you don't like it, then it will soon grow back!
| | | |
| --- | --- | --- |
| | | |
| Although I would rather be nude like this... | When I can't, then this is the next best thing | But when all else fails, then its shorts, tee shirt and flip flops. |
There comes a time when even the most ardent nudist has to wear clothes, but depending on the circumstances and location it can be possible to keep the clothing to a minimum. It the weather is at all warm then shorts or swimming costumes are the sort of thing that I resort to. Even when it is necessary to wear trousers, then underpants are really not needed as they severely restrict your freedom.
My favourite shorts are light weight running shorts made from thin, almost silk like material. They tend to be so thin, that there are slightly transparent. To make them even more comfortable, I cut out the lining, so all that you are left with is a thin light-weight shell allowing the breeze to pass through, past your unsupported 'private parts'. The unsupported nature of the resultant shorts does mean that the is not much hiding your 'modesty', so you do have to take care when stepping over things or when running, to prevent your 'unsupported bits' from putting in an unwanted 'external' appearance.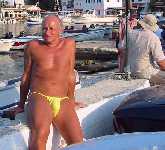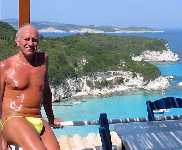 My swimming trunks are effectively the next best thing to nudity. Obviously given a choice, then I always go to a beach where trunks are not needed anyway. If the situation is unclear whether nudity would be accepted, then on go the trunks to prevent any embarrassment. However they are verging on the absolute minimum, in so far as they carry out the legal necessities by coving the penis, but really do not leave much to the imagination.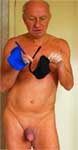 One step futher (if that were possible) is the C String. It looks a facinating 'garment' It really is just about a minimal as you can get, yet it covers all the 'essential' dangly bits, yet leaves your sides completely bare! Have a look at it in more detail.
It is basically a plastic frame holding a suitably sized pouch which fits over you penis. The frame extends in a 'C' shape which goes under your crotch and is held by your bum cheeks. I was surprised at just how well it fits and how well it stays in place.
My thoughts and ideas on how to wear the absolute minimum are discussed more fully on my 'Skimpy Webpage'
On the Nat Ram nude walks it is often necessary to 'cover up quickly'. The normal method is to slip on a pair of shorts. However, this is not necessarily as easy as it sounds especially when on a muddy footpath and trying to do it in a hurry. "There must be an easier way".
Always being inventive and not afraid of having a go with needle and cotton, I decided to apply the idea to a pair of my running shorts which had already had the lining removed.
Initially one side was carefully unpicked. Being running shorts, there was an overlap of about 2cm in the material on the side of the leg, which was the obvious place for a Velcro fastening. About 2cm of Velcro was used to make the join. When Velcroed back together, the shorts resembled their original style.
| | |
| --- | --- |
| | The 'good' side 'unpicked' |
| | The side joined by Velcro |
The next task was the crotch. Initially they were cut along the seam that joins the front and back of the shorts. Velcro was attached and the two halves joined up with out any problems in appearance. However, the Velcro chaffed, and on subsequent designs the cut was made about 2cm in front of the seam. This moved the Velcro sufficiently far forward to remove the chaffing problem.
| | |
| --- | --- |
| | The Velcro crutch join |
When on, they look just like the original garment and I'm quite happy to wear them in normal textile surroundings on Nat Ram walks (pubs etc). When put on and the waist fastened, it is necessary to ensure that the Velcro is securely fastened. The join is quite strong, however failure to secure the Velcro properly could result in the join coming undone, the result of which is instant and totally revealing, much to the potential surprise of the publican and other non-textile customers! It did happen to me at home while developing the design, so I know just how instant the exposure is, but has never happened in the real world! Like many things, the knowledge of knowing that you are only a Velcro rip away from total exposure is part of the fun of wearing them!
| | |
| --- | --- |
| | Aparently a normal pair of shorts |
| | Un-do the Velcro join at the side |
| | Un-do the crutch joint |
| | And.... |
| | Nude again!! |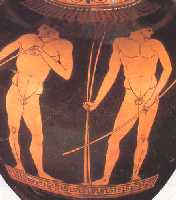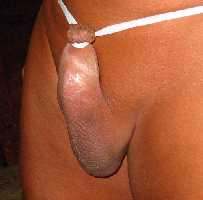 As a result of the 2004 Athens Olympics, there was quite a lot of reference to the fact that in ancient days, the Greeks undertook their athletic Olympic events in the nude. However, research has shown that this was not quite true. It appears that they actually wore a device / garment called a 'kynodesme'. A kynodesme was a thin leather strip, worn by tying it tightly round the part of the foreskin that extends beyond the glans. (the prepuce) The kynodesme can then either be attached to a waist band, or tied to the base of the penis so that the penis appears to curl upwards.
The Kynodesme is such a simple device that I could not resist trying it out. It is a delightfully simple thing to wear. I found that a long shoelace would fulfil the same function as a Greek leather strip, in fact I suspect that a shoelace is probably better, as it is softer and more 'grippy' than leather as you can see from the photos.
Have a look here for an extended webpage on the subject of the Kynodesme, why the Greeks wore it and what feels like to wear one.
One of my few activities that I have not managed to create any nudist links to is opera singing. Maggie and I sing in the chorus of a local opera group. Its the real thing, grand opera! The chorus is amateur, but the soloists are up and coming singers from the leading opera companies in the country. The productions, which include all the big name operas, are lavish and cost in the region of £60,000 a production. Although there is the occasional opportunity for nude women on stage, few operas require nude men, so the chances of combining opera singing and nudity don't look too good! I've had a word with our producer and said that if she ever needed a nude male on stage, then I could be the man. I don't quite know what she made of the conversation, but she is quite broad-minded. I would not have raised the matter if I thought she might have been shocked by the subject.
Some of the productions that we have performed in do require unusual clothing. Probably the most memorable was Pearl Fishers, where as village folk from a fishing village in Ceylon, the clothing was minimal, with dark body make-up being virtually worn from head to toe.
We have now done may productions and the thought of going on stage in front of 700 people each evening does not produce many 'butterflies'. I'm not sure if my reaction would be so calm if the prospect ever arose of performing nude in front of an audience of 700!
Technical Stuff about Creating Web Pages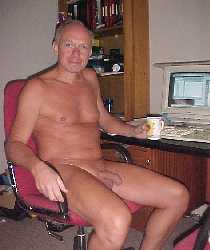 The webpage can into being in August 1997. It was a wet August Bank Holiday and with nothing better to do I sat down and wrote the original text for the webpage. Being 'into' computers, I could not resist the temptation of having a go at creating my own Home Page. I thought that I had a story to tell that was a little different from any other pages that I had seen on the Web. My original ISP (Demon) allowed me 5MB of free disk space, so I had a go, and this is the result! During the development of the page, I have learnt a great deal, particularly about things like image size and bandwidth etc. If you are interested, then read on.
I first used Netscape Navigator Gold (3.01) to create the page. It is by far the easiest 'free' Web page creation program that I have found. Not quite WYSIWYG, but almost.
I wrote the text in WORD, then cut and pasted it into Netscape. The creation of the text is fairly straight forward, but the images while not being difficult to get into electronic format, can create other size related problems. 1997 was before the advent of digital cameras and photographs, so all the photos were prints, which then had to be scanned to create a digital file.
Initially, I was able to use a scanner at work. It was adequate but nothing special. I saved all the files in GIF format. This allowed the displayed images to built up on the screen as the page downloaded. I very soon got complaints from my ISP, that I was using an excessive amount of bandwidth, and that unless I reduced the amount, then I would be 'cut off'. They did provide helpful information on how to solve the problem.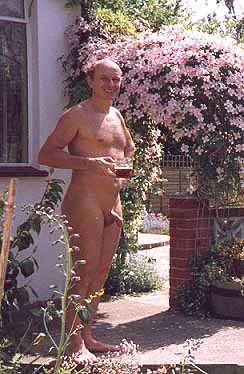 It appeared that the file size of most of the images were quite large, eg, 100,000 bytes. One of the reasons for this was the GIF format. As suggested, I converted them into JPG format and immediately reduced the file size by about a quarter. This made Demon happier, they withdrew the 'termination' threats, but still thought that I used more than my fair share of band width. JPG uses a compression system when images are saved. The larger the compression the smaller the resultant file size, but beyond a certain point. So I increased the compression size to about 50, and got the files down to about a half the original size.
Things have moved on since then, with ISPs now offering free web access and no hassle about bandwidth. I originally moved to Freeserve, which has now become Orange, which works fine for me. Its totally free and there are no adverts, which do appear to be a problem with some other free ISPs. The webpage sits on 45MB disk space.
My webpage editing is now done by Adobe's Pagemill 3.0. Its one of the few bits of software that I have actually bought! It is very easy to use and very powerful.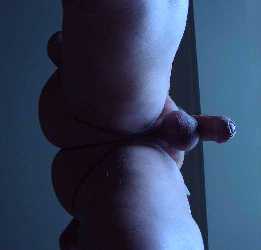 In 2003 I purchased a digital camera, so taking photos and getting them into the webpage is now much easier. I think that the quality is slightly better, and also means that it is much easier to experiment with light / shade and taking photos from slightly unusual angles.
I have not 'advertised' the page outside of nudist circles, yet manage to get about 1200 hits a day! I still find it 'mind boggling' to think that my page is being read and my pictures seen all over the world by so many people.
Its nice when people reply with their comments, good or bad. By far the most common reaction is one of admiration of the page. It is clearly unusual to find a page with so many photos, which is appreciated by readers. I always try and respond to all people who comment on my page. We have actually made friends with some of the people who have contacted us through the page.
One of the most negative reactions that I had was from the organisers of the Nudist WebRing. It seemed like a good place to have a link to my page, but they would not allow it because it contained a photo of a stiffish willie. I therefore created a special version for them with the photo removed. Another slightly strange observation was made by the organisers of Infosponge. They commented that all the photos were of me! Well that is very true, as you will have gathered, there are lots of nude photos of me, generally taken by my wife. We also have lots of photos of her, but not surprisingly, she is more sensitive than me about having her photo on the Web. Taking photos of other nudists is frowned upon, so I don't have any, well only distant ones. That just leaves photos of me, so it is a case of take it or leave it!
Infosponge no longer has its nude links pages, and the Nudist webring keeps changing ownership, so I appear to have out lived both of them. Maybe there is a moral to the story!!
In 2014 I was getting increasing problems with the disk space that I used for both my Nudist Webpage and also the SOC / Nat Ram Walks webpages, both of which I run. The webspace was provided 'Free' and had been in use for some 15 years! It originally came with the Freeserve package. They allowed 15MB per account, which was originally called 'addicks'. So I added three more accounts using fictitious names, they became 'addicks2' 'addicks3' and 'socwalks'. Freeserve were taken over by Wanadoo, who were taken over by Orange, who were taken over by EE! It is no great surprise that after 15 years of free disk space, EE decided to no longer support it! As of December 2014, the old addicks webpace was still there, but funny things were happening to it. For example, if I updated a file, you might get a refreshed page displayed on your browser that was an old file that might be 6 months old!

I had expected that at some stage the addicks accounts would eventually 'bite the dust'. The problem was then to find an organisation willing to provide disk webspace for Nudist Websites that actually contained photos of real nudists. I know full well that any organisation with its roots in America, would 'run a mile' from such an idea! Fortunately a friend of a friend is in the business and was quite happy to oblige. I had to tell him straight about the content of the website and pointed him towards the old addicks webpages. It was totally relaxed about it! - Brilliant news!!

I then had to think of a name for the website. Obvious ones like 'Peter's Pages' were long gone. It had to be a name that was not too much 'in your face', but never the less conveyed the clothes free lifestyle. I then heard the song in the 2014 film version of 'Annie' called 'You're Never Fully Dressed Without A Smile'! That was it - so 'Just Wear a Smile' was born and became shortened to 'justwearasmile.co.uk'

The bad news is that I have to pay a small amount of money for the webspace, but that is no big deal. The good news is that I have total control over the webpages and its contents and that there are no restrictions on how much webspace I can use!!

So both 'Peter's Nudist Page' and 'SOC / Nat Ram Walks' now share the same home. The conversion of both webpages was reasonably straight forward, but 'Peter's Nudist Page' does contain a lot of links and, although I've tried hard, it may be that some links no longer work. If you find any, please let me know. During the conversion I've also taken the opportunity to tidy-up some of the Nudist Page.
If you try and go to the old webpages, you should automatically be diverted to the new websites!

So Onwards and Upwards!
In 2017 my email provider (Orange) informed me that my email address (peter@addicks.fsnet.co.uk) was going to have its plug pulled and that after 31st May it would die completely. It is a real pain - it was my original email address, which I've had for years and years.
So I've had to set up a new email address - peter.w55@outlook.com
Hopefully I've changed all the links to my new email address!

---
Navigate Yourself Around my Web Pages