First Visitors Gallery
This is the first re-launched Visitors Gallery (February 2007). Don't forget to have a look in the other galleries,

---
Click on the image to enlarge them to full size.
---
Chris from Yorkshire
---
Mark in Wiltshire happy to chat and meet other Nudists
---
Chris from South wales enjoys walking
---
Tony who lives in Bognor Regis, West Sussex is happy to chat with other nudists
---
Norbert from North Germany
---
Paul would love to hear from other guys who like to be nude in public.
---
Paulo from Italy
---
Roy from Australia
---
Jerry from USA
---
Simon from the Midlands in UK
---
Erol is a life model and naturist in his mid sixties and would love to correspond with other naturists .
---
Natfree lives in eastern in France near the German state border. He organizes naturist hiking tours in the moutains and participates at some wnbr events like Brussels and Amsterdam.

---
Michael from Northamptonshire and would like to hear from others nudists from anywhere!
---
Les is gay and single and lives in South Wales U.K.
---
Perry and Denise
---
Melanie recently took the plunge this year and went nude for the first time and loved it and should have done it years ago !
---
Paul from Plymouth, UK would like to meet up with other guys - nudists or not.
---
Alan from Canada
---
Rob from Phoenix, Arizona, who enjoys hearing from nudists around the world
---
Trevor and Colin from from Australia
---
Bjorn is a nudist and loves to be naked.
---
Ewan from Bala, North Wales is looking for other male naturists for naked brews and other activities
---
Arnaud from France, but living in London and would welcome emails from fellow nudists the world over, but especially London.
---
Liam wants to connect and meet other older mature nudists
---
Tom from USA
---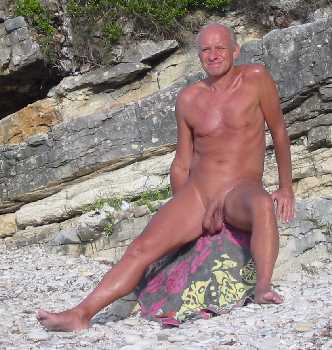 Sorry, its me again, but it could be you!!
Have a look here to find out how to get your photos into the gallery
---
Don't forget to have a look in the other Galleries

---
Navigate Yourself Around my Web Pages