Lots of Poses!
January 2007 Class
---
Sue's Life Drawing Class - Read the story behind these poses
---
Sculpture class December 2007
Sculpture class January 2008 (River God)
Gone Abstract!
December 2008
January 2009
A whole wall of Peters! These are drawings of me from different angles. The tutor left them on tha wall for several weeks until the end of the 4 week session. I just hope that other users of the room appreciated it!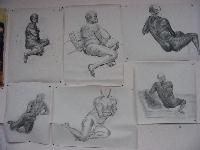 This was the first class for ages where I asked the tutor to take photos of my poses. It is facinating to compare the actual pose with the final drawing. Have a look at my 'Life Webpage' to get an insight into some of the poses.
The pose:
The drawings:
---
The drawings:
---
The drawings:
---
The drawings:
---
I'm always trying out new poses. You never quite know how sucessful they might be until you try them out. Some work OK and others don't. Here are some of the sucessful ones.
February 2010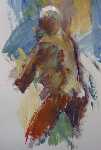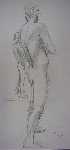 This pose was in front of a large mirror, so the 'image behind' is the reflection
---
Summer 2010
| | | |
| --- | --- | --- |
| | | I did this pose for an untutored group without stopping to think that I was fully showing the bits that the sun never normally gets to! |
Autumn 2010
| | |
| --- | --- |
| | Short poses |
| | | |
| --- | --- | --- |
| | | Drawn by 'A' level students |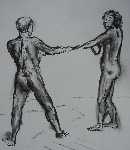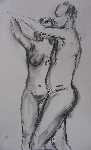 ---
---
---
| | |
| --- | --- |
| | This is a Monoprint |
---
During a class in February the tutor (Jennie) tried to re-create some of Lucian Freud's poses and images. The most successful was his very last (and unfinished) paintaing of 'Portrait of the Hound', which he started in 2011 and was unfinished at his death. Freud's model was David Dawson and the hound was Eli. They worked at the painting over a 2 year period for up to 4 hours a day. Our versions were completed in 1 hour.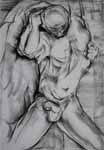 More Freud style poses
Deck Chair Poses!
---
---
The artist Gericault has a famous painting in the National Gallery, London called A Shipwreck: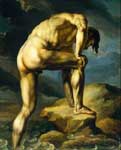 I saw it and thought that I could do that pose, so here are some versions of it!
---
More examples of Monoprinting, where the image is drawn onto a metal sheet covered with ink. The metal sheet is then run through a press with paper in contact with the sheet. It produces some brilliant images!
| | | |
| --- | --- | --- |
| | I did a standing pose, which one of the students thought looked like the classical paintings of San Sebastien, so she painted me as San Sebastien from memory | |
| | | |
| --- | --- | --- |
| | <The pose The result> | |
| | | |
| --- | --- | --- |
| | <The pose The result> | |
---
The following drawings were from an all day pose
---
December 2014
---
---
The pose and resultant drawings
| | | |
| --- | --- | --- |
| | | Pulling poses |
| | | and the resultant drawings |
Modelling for a 4 week Sculpture Class
2017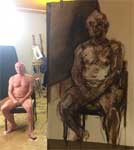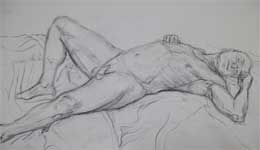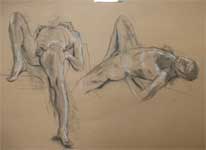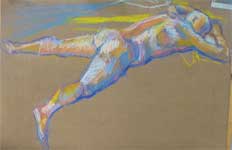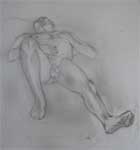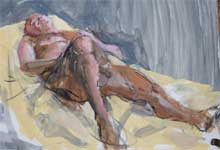 June
November
| | |
| --- | --- |
| | A wall full of Peters |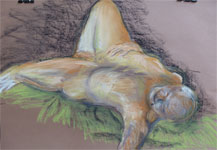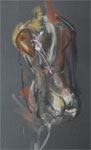 ---
My more sensual Poses
---
Back to my Life Drawing Webpage
---
Navigate Yourself Around my Web Pages