It is possible to enlage some of the photos by clicking on them
Croatia and Greece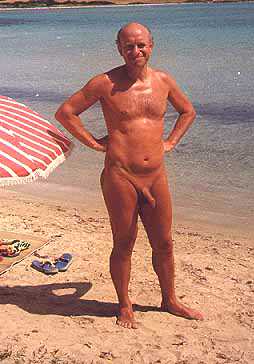 The next step in my nudist education was the discovery of nudist beaches. I was on holiday with a group of friends on Corfu. Being ever resourceful, I had a copy of Phil Vallack's Free Sun book with me, (This has now been superseded by Coast and Country's Naturist Guide to Europe) and discovered that there was a listed beach only some 3 miles away. The rest of the group could not see the attraction, but the lure of Myrtiottissa nudist beach was infinitely stronger than sitting around a pool in a swimming cossie. Needless to say they did not see much of me during the day on that holiday. Myrtiottissa beach was delightful, a sandy beach set at the base of some cliffs with delightfully warm water. I remember that a small stream cascaded over the edge of the cliff, forming a natural shower.
The following year I went on holiday to Yugoslavia, (as it was known then, but is now Croatia). I headed for the naturist resorts of Monsena and Koversarda. I did not bother with a package operator or swimming cossie, I just booked a flight, packed my tent in my rucksack, and off I went. My first destination was Monsena. I was a bit concerned as I was not quite sure where the site was. I managed to get a taxi from the airport direct to Monsena. I need not have worried as the naturist site was signposted clearly from the centre of the nearby town of Rovinj. What a change from secretive nudist existence in England. There were no high fences walls or hedges, it was just like entering any other camp site. I put up my tent and lived naked for several days, absolute bliss!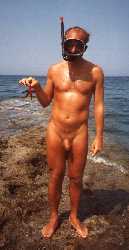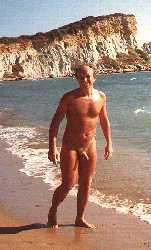 The following year I tried Greek Island hopping. My initial destination was Ios in the Cyclades. What a gem! Wall to wall sunshine, and as many nude sandy beaches as anybody could want. The island has a Jeckel and Hyde character. By day it is a typical Greek sleepy island. In the evening it comes alive, with the small town reverberating to the sound of discos.
Finally I moved on to Mykonos. It is an amazing place, very pretty, some magnificent nude beaches, and many of the holiday makers 'bent as nine bob notes'. I enjoyed Mykonos, its an experience, everybody should go there once to sample it, but it is not my favourite Greek island.
My favourite Greek island is probably Skiathos, with Mandraki beach being top of the list. It takes a 15 min (nude) walk through the Mediterranean Pine trees to get from the bus stop to the beach. Once there it totally wild. A wide sandy bay, few people, no tavernas. You can read more of my thoughts on the beaches around the Greek Islands in Captain Barefoot's guide to nude beaches in Greece.
Paxos, Greece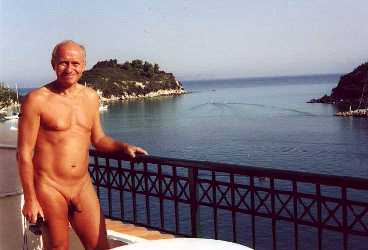 In September 2000 and 2001, we spent two delightful weeks in Paxos, which is a small island just south of Corfu in Greece. We discovered it in 1999 while on one of our many sailing holidays. It is an absolute gem of a place, there are no larger louts or discos, but just an island 5miles by 1 mile, covered in olive trees and footpaths. For us the jewel in the crown is the town of Lakka, which is located on the northern tip of the island in a splendid bay, which is where we stayed. The west coast is mainly sheer cliffs, but the eastern coast is full of small pebble bays. It may not be the obvious place to go to for a nude holiday, and I would not for one moment suggest that it compares with Skiathos or Mykonos for nude sunbathing choice, but it does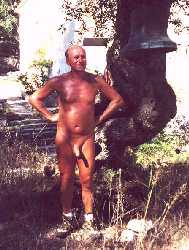 contain quite a bit of nude sunbathing potential. If that is what you are looking for, together with quiet, small unspoilt Greek island, then read on!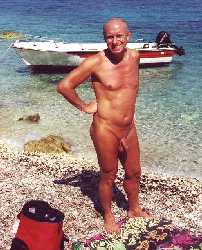 The island is very popular with English people, so it is not great surprise that there are two good walking guide books to the island. Many of the walks are delightful. None of the climbs are that steep, and much walking uses paths that run along donkey tracks through olive groves and deserted villages, complete with chapels and remains of olive presses etc. The island is sufficiently deserted to be able to walk quite long distances nude, although in areas there are concentrations of villas etc where it is necessary to 'cover up'.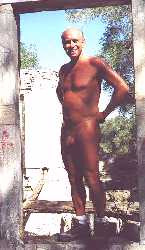 The 'Bleasdale Walking Map of Paxos' refers to a naturist beach on the northern tip of island at White Bay. It is only about 15 mins walk from Lakka, so we tried it out. After getting lost and found a few times, we discovered the beach. To be fair, it was nothing special. It consisted of two dramatic coves, one being sunny, but covered in large rocks. The other beach was a bit shady, but had more comfortable pebbles. We did not rate the beach very highly, so we concentrated our search for nude beaches elsewhere.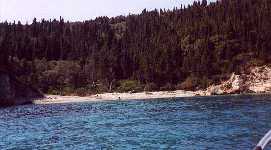 We travelled to Paxos with Planos Tours. A small motorboat was included as part of our holiday package, so we were able to explore the bays and coves along the eastern side of the island by boat. From Lakka we did not have to go too far before we discovered Lakkos beach which was totally nude. As with all the beaches that we found on the island, it was pebbles rather than sand. However, its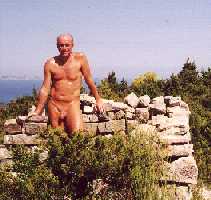 location was delightful and the swimming was safe and the water was warm. The beach attracted a complete selection of nude sunbathers, including couples (with babies), and singles of both sexes. Even the local fisherman used to arrive in this small boat in the late in the afternoon for a quick nude sunbathe. Being more fond of walking that using a motorboat, on most of our subsequent visits to the beach we followed the various footpaths that lead to the beach. It took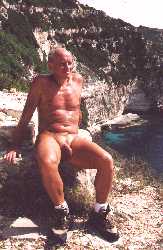 about 40 mins to walk from Lakka to the beach, which again took us along paths and tracks through the olive groves, providing some magnificent views across the island and coast. It was quite possible to walk nude along the paths near the beach, so as to arrive nude on the beach nude. Then spend the day nude sunbathing, and then to commence the walk back to Lakka, still naked!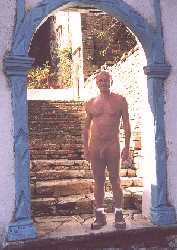 We did however use our motorboat to explore further afield along the east coast, and various nude bodies were to be seen in the smaller coves and on some of the rocky ledges.
Most of the beaches on the island were accessible by footpath, but you could not guarantee road access. Obviously to get to some of the smaller coves or rock ledges you would need a boat, but there were plenty for hire on the island.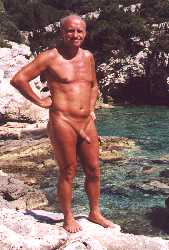 Although we stayed at the northern end of the island, it is quite easy to explore the southern end of the island by taking advantage to the local bus service. Although the island is quite small, there is a difference in style between the two ends of the island. Some of the footpaths on the southern end of the island are just narrow (1m wide) donkey tracks running between the walled fields. They must use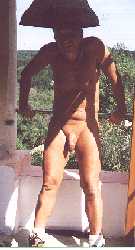 very thin donkeys! Just south of Paxos is the smaller island of Anti Paxos. No shops, no tarmac, no accommodation, but some glorious beaches. It is a bit like a smaller version of Paxos, but even much less developed. Small boats will ferry you to the island each day. During our expeditions, we spotted other nude bodies on the beaches at Avlaki Creek and Mesovrika Beach (on Anti Paxos).
Navigation around the island is rather strange as the villages tend not to have signs displaying the village names. The small churches / chapels are quite prominent land marks, and although they are named on the map, again they do not actually have any names on them. Its all a bit confusing, conseqently you do tend to get lost and found a bit, but the place is so small that you can't go too wrong. Some of the churches are quite splendid, complete with tall bell towers, and appear in the most unlikely places.
As you probably will have gathered, we thoroughly enjoyed ourselves on the island, but don't tell too many people about it, as it would be a shame to see it spoilt!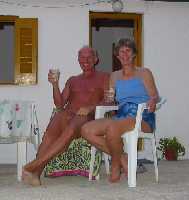 Our late season holidays to Paxos are becoming a regular feature every year. In 2004 it was our 4th return visit. Its only a small island and there are only so many places to go and foot paths to walk along, but for a weeks break it's a great way to relax. We always take loads of photos, with many being similar to those taken on previous years, but each one remains special reminding us of holiday memories.
We always book our holiday through Planos Holidays, who are a small but well orgainised company. They escort you from Corfu Airport, on to a coach for a short ride to the port, where they lay on a private ferry for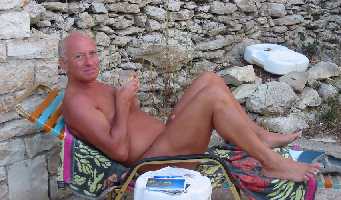 the 2 hour boat ride to Paxos. The journey takes you down the side of Corfu Island and then across to Paxos. It is a most relaxing way to start a holiday.
Accommodation on Paxos is in self catering villas, cottages and apartments. We always book late, so never have much choice in accommodation, but have always been able to find somewhere secluded, where you don't have to worry about any seeing you as you wander about as nature intended. In 2004, we had a delightful cottage in an olive grove, over looking Lakka bay and all within a 'stones throw' of the village centre.
We have now been to Lakka so many times that the local taverna owners are getting to know us and welcome us back like locals.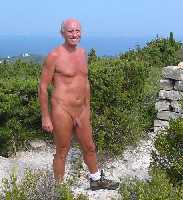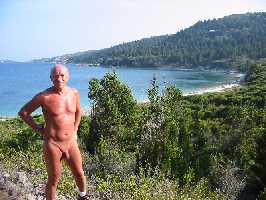 A typical day would be a cup of tea in bed, breakfast in a local taverna, buy some freshly made sandwiches for lunch, put walking shoes on, walk for several ours along the donkey tracks through the olive groves, arrive at a beach, laze about, then as the sun starts to drop behind the trees, head off back to Lakka, have a cold beer, have a shower, find a taverna for supper, and finally bed!
Some of the paths are magnificent with superb views. Although we have walked them before, they can still take your breath away. In many parts of the Island, it is possible to walk nude, so as you can imagine, I do, with just my mini cossie at hand as a 'cover up'. When ever we approach a place where there might be people, I cover up, although the mini cossie does not actually cover much up!
| | |
| --- | --- |
| | Wild Cyclamen |
On one occasion, we were on a path descending down to a very quiet beach were there might normally be a handful of people, but from previous experience on this beach they would have been textile So as we approached the beach I covered up. As it happened, the beach only had one couple on it. As they saw us, it was obvious that they had been nude and were putting their costumes on, presumably in case they caused us any embarrassment! What a crazy world we live in!!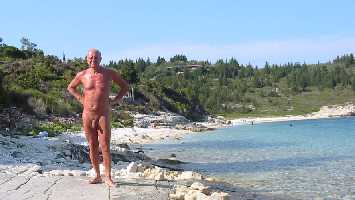 We had not intention of stopping on the beach as we were doing a walk that included several similar beaches which finished up at our favourite beach. So we sat for a while under a tree, had a drink of water, and then moved on the allow them to resume their lazing around.
Our favourite beach is Lakkos beach. It is nothing special. Its small, not sandy, but is quite pretty and if anybody is actually on the beach, then there is inevitably a mixture of nude and textile visitors. I quite often walk nude to the beach and then straight onto the beach, as nature intended, even if there are textiles already on it. On this occasion, it was our first visit to the beach of the holiday, so my confidence was may be not as high as it could have been. As usual, I was nude as we arrived, we could see that although it was not crowded, to our horror, everybody on the beach was textile. We had a brief discussion about how we were going to handle the situation. Maggie, was cautious, but I said that I would put my cossie on to 'arrive' on the beach, but that I had no intention of r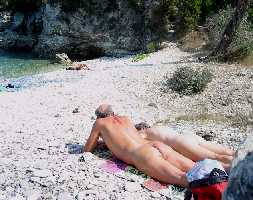 emaining clothed once we had arrived on the beach! We proceeded onto the beach, we found a nice spot, spread out our towels and made ourselves comfortable and off came my cossie. As usual, nothing changed; the people reading carried on reading; the people swimming, carried on swimming; and the people sleeping carried on sleeping. We had placed our towels near a couple of girls, who were swimming as we arrived and got ourselves settled. After a few minutes they emerged from the sea both wearing black one piece cosies. A thought went through my mind that if anybody was likely to object, then they looked likely candidates. As they approached their towels, the obviously passed by quite to us and my nudity was there for all to see.
To my delight one of the girls rolled down her cossie, stepped out of it and combed her hair totally starkers. Her friend did not quite go that far, but was happy to be topless. The nude girl then came over to us and said that she was so glad the we arrived on the beach and that I was nude. This meant that she could happily strip off, but did not want to be the first person on the beach to do so!. Again, what a crazy world we live in!!
We are hooked on the place. We returned there again in 2005. All the words have already been said, but here are the photos. I apologise if some of the photos are similar to previous years!
| | |
| --- | --- |
| | Kipodi Bay |
| | Lakkos Beach |
| | Lakkos Beach |
| | Khairos Point |
| | Catching some late evening sun |
| | Ypapaniti Windmill |
| | Up the Papanti Tower |
| | The footpath from Lakkos Beach |
There are more photos from our holidays on Paxos in the Photo Album webpage. Although we have visited the island on many occasions, we still keep finding new paths and beaches!


French Beaches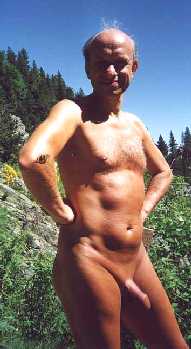 By the time of my next nudist experience I was married. We decided to try one of the nudist camp sites in France. After much scouring of the travel pages in H&E and British Naturism, we decided upon Arnaoutchot on the Atlantic coast located between Bordeaux and Birritz. That whole length of coast line is wild beach, sand dunes and pine forest. Arna is carved out of the forest just behind the beach and sand dunes. It has shops, restaurants, swimming pools, all nude. The camping area is large and split into smaller areas with most of the pitches being separated from each other by undergrowth and bushes. There is no shortage of wild life, in particular red squirels, woodpeckers, etc. The site is excellent, and the beach is magnificent. It is just mile after mile of wide wild fairly empty sandy beach together with the impressive Atlantic waves.
The only problem with Arna is that the weather can be adversly influenced by the Atlantic and the nearby Pyrenees, so it gets more than its fair share of cloudy and wet days. I just love being naked, preferably out doors. It does not have to be on a beach. As I mentioned above, one of my other great loves is walking (preferably nude). So when the weather was unsettled at Arna we would head for the deserted footpaths of the Pyrenees which are just over an hours' drive away.
Having been most impressed with the Pyrenees, the following year we decided to try the eastern end, with the hope of getting even better weather. Again after much leafing through the holiday advertisements in old editions of H&E we headed for La Clapere. It is located in the foothills of the western Pyrenees very close to the Spanish border. It has a charming camp site, with a swimming pool, shop restaurant. It has a mountain stream running through the centre of the site, but the water was far too cold for me.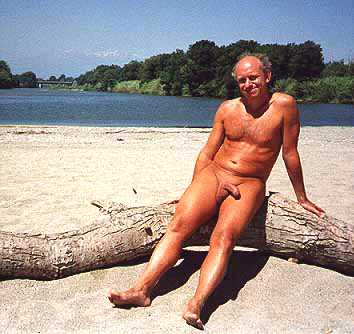 The nearest largish mountain is the Canigou. We were there in mid June, just after a cold snap. When we arrived, the top third of the Canigou was covered in snow! By the time we had the tent up the sun was shining and it was wall-to-wall sun for the rest of our holiday. The thought of walking nude in the snow was a tantalising prospect, but we never quite made it. Our favourite beach at the mouth of the River Tech was about a 30 min drive away. You can just see the snow on the Canigou if you use your imagination. The walks in the hills around La Clapere are magnificent. Some of the paths follow the French / Spanish border. One day we were engulfed by clouds of migrating butterflies wafting along with the southerly breeze. Can you spot the butterfly?
The restaurant at the camp site was superb. Once a week there was a Paella evening. You can imagine the format, wine, food, more wine, more food, dancing, etc. Not being one to wear clothes at a nudist campsite, I was of course, nude, but as the tempreature was slightly cool, I was the only naked one in the group of 20 or so, most of whom were Dutch. I am not an enthusiastic dancer at the best of times, but my wife dragged me onto the dance floor. Nude dancing, with all your bits bouncing up and down is great fun. I liked it, so did my bouncy bits! One dance led to another, and another. Then came the slow dance. We embarrassed each other, quite respectably, and smooched.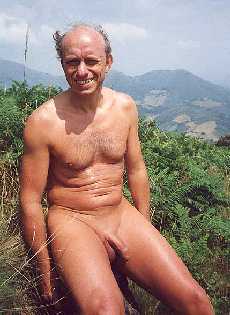 The wine had got to my bouncy bits. It had stopped bouncing and was starting to move upwards. It does not take much to get it excited at the best of times, and this was no exception. I just about managed to gain some semblance of control by the end of the dance, and managed to coyly get back to my seat pretending nothing had happened. My re-control of the situation was not total and there were a few knowing smiles from some of the Dutch girls.
A couple of glasses of wine later and things were totally under control again when I got dragged to the dance floor again. I was bouncing well, then came the slow dance. It started to grow again, but what the heck I thought, don't fight it. The dance had only just started, they always played at least two slow pieces together, so I gave wicked willie his head, and did not worry about it (as if I would). One of the Dutch girls then decided to turn the dance into an 'excuse me'. My wife was whisked away from me and I was given an unsuspecting girl who had just been broken up in a similar fashion. Protesting was pointless. What can you do or say when there you are dancing naked with a complete stranger with a stiff penis. Well I continued dancing. I smiled, so did she, I apologised, but I don't think that she understood English. It is surprising just how fast a penis can deflate under such circumstances. The dance soon ended, I smiled again, said thank you, and returned to my seat. I never could work out whether the 'excuse me' was just coincidence, or whether I was set up! At the end of the day, it was a good laugh, no harm was done and I suspect that I was the most (although not very) embarrassed person on the dance floor.
Closer to home, my wife and I recently went to one of Eureka's regular Saturday night parties. It was actually to celebrate my 50th birthday. I had though long and hard about what to to on such a occaision. The idea of spending the evening in my birthday suit at a dance rather appealed, so off we went. We had never been to one before and had no idea what to expect. It turned out to be a Valentines Day party, and the place was heaving, absolutely packed. I've never seen so many naked bodies in such a relatively small space.
The music seemed to be 15 mins bop, 15 mins reggay and 15 mins slow dance. It was the 15 mins slow dance that appealed to me most. Although we have been married 12 years and spend lots of time naked together, we have never danced naked before, especially in a smooch.
My wicked willie got carried away, but thats no great surprise, but sandwiched between our naked bodies, I thought that few people would notice. Also, what was no surprise, was that my penis was not the only one enjoying the situation. Without too close an inspection, there were penises in all states of stiffness all over the dance floor. The end of the dance was quite amusing as the owners of these stiff penises had to allow an extra six inches or so in front of them when returning to their seats. But as it was Eureka, everybody just smiled and carried on as before.
---
Navigate Yourself Around my Web Pages